What is the Best Antenna for a Helium Hotspot Miner in 2022?
Picking the best antenna to maximize your profits for your specific environment.
By Abe Meyer — published June 16, 2022
One of the quirks of that comes with being a Helium miner is that you become obsessively interested in how to maximize your HNT profitability. After antenna placement, antenna quality/type is the most important optimization you can make. We've tested hundreds of dollars worth of Helium antennas on our own hotspots since early 2021, and taken a deep dive into the Helium community to come up with a handful of great antennas to suit different budgets and different locations and elevations. The McGill 3dBi Antenna ($78) is the best antenna for most people.
Of course like a things Helium, the answer is it depends on your situation. Here are our recommendations for different environments:
High buildings and a dense population? Get the McGill 3dBi Antenna ($78)
Flat, remote area with few obstacles OR top of a mountain with a view of everything? Get the McGill 9 dBi Antenna ($195)
Somewhere in-between? Try the Signalplus 5.8 dBi Outdoor Antenna ($58) for a solid general option.
Don't worry if you're wondering why we selected each dBi for each location. We'll go into this in detail.
McGill creates antennas specifically for helium miners. They are known for their high quality fiberglass antennas. They are based in the UK, so we would recommend ordering from a trusted reseller like Fiztech if you are located in the US/Canada.
McGill's antennas are tuned (optimized) for specific radio band frequencies. If an antenna is untuned it is designed to be universal, so a single product is designed to cover the 868 MHz and 915MHz Frequency bands. This means the design may be non-optimised for either frequency range.
Are tuned antennas more profitable than untuned ones? This the subject of much debate, but the consensus is yes, the tuned antenna contributes to increased profitability and HNT earnings, however the increase is very small, and your efforts could be better spent on optimizing placement and height.
HNTenna is a Swedish brand that produces high quality antennas. Even though it also produces an indoor antenna, we recommend the outdoor one, because we've seen higher profits at the same elevation with an outdoor placement; infoor placement means walls block radio signals. The outdoor antenna is 6 inches tall, smaller than most people expect, and comes in black and white colors. As you can see it has a novel cylindrical design compared to other antennas.
This is the most expensive antenna of all the antennas we are recommending. We believe the price is justified, because the HNTenna is the only antenna to come with multi-polarization. This patented technology allows the antenna to detect more signals than others. Other brands offer vertical and horizontal polarizations, but not multi-directional. Multi-polarized technology allows detection of reflections, refractions, diffractions etc. Check out the patent here.
If you notice with your current setup that the radio waves are bouncing a lot off of buildings and trees, we would recommend the HNTenna because of the multi-polarization. We've seen these in 'problematic' areas reaching 30+ miles.
9 dBi is the highest you should go for Helium mining, and McGill produces the best 9 dBi antenna. In situations with extremely flat landscapes, where you can see for miles in every direction, the 9 dBi has been reported more than double profit.
Higher dBi is always a trade-off: while the reach is greater, there is less power penetration. Assuming you live in a very flat area and don't have many obstacles blocking your line of sight, we would go with the 9 dBi.
Keep in mind that the 9 dBi is heavier than the smaller antennas in this list, so you will need a solid pole to hold it up.
The SignalPlus 5.8 dBi is a great budget option, and the least expensive antenna on this list.
It's fiberglass and waterproof. Users running Bobcat and RAK miners have reported increased witnesses when using the SignalPlus instead of the stock Antenna.
The common complaint we've seen for this one is while the quality of the antenna is good, the cable that comes with it is low-quality. We would also add a LMR 400 cable if you were going with this antenna.
How to Pick a Helium Antenna
Which dBi should I get?
dBi refers to the 'shape' of the signal transmitted by the antenna. To simplify things: a lower dBi means a more ball-shaped signal, and a higher dBi means more flat and plane-like signal. So while 9 dBi will reach further away, 2 dBi will hit closer targets above and below, and hit targets deeper. Take a look at this diagram to get an idea of what we're talking about: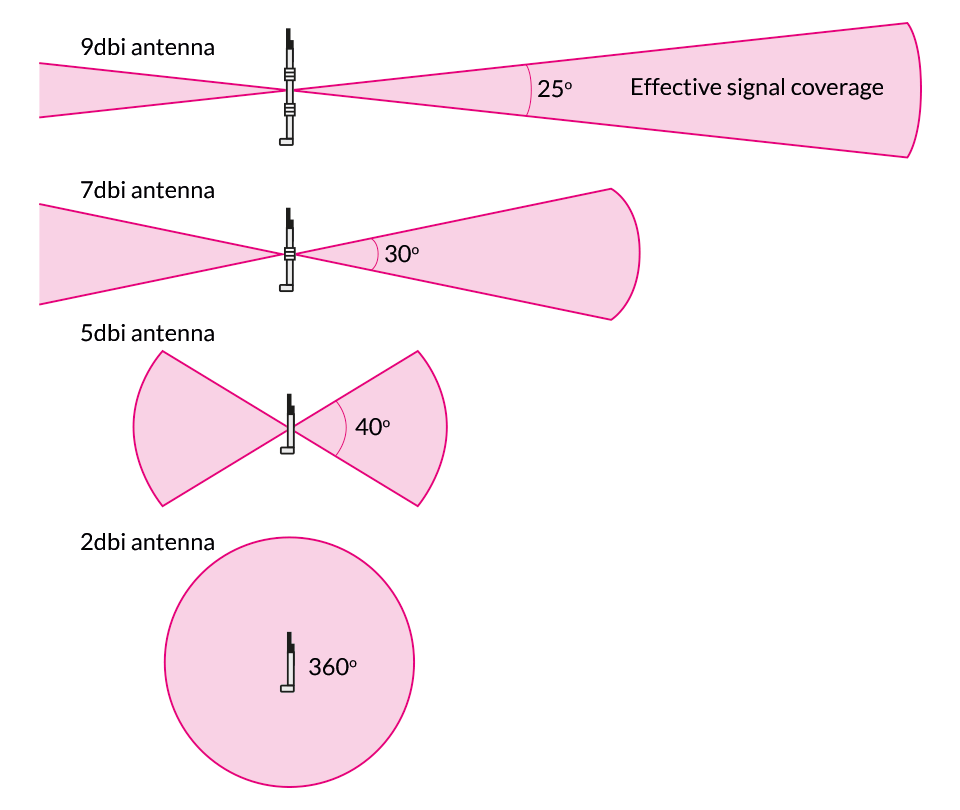 Antenna dBi compared to signal shape
Let's say you're in a dense city like Cleveland or New York City with many other hotspots. We would recommend a low-gain antenna placed as high as possible. Why? If you had a high-gain antenna, the signal would be flatter, so it could go straight over all the hotspots you want to hit!
The reverse is true as well. If you're in an extremely flat area without obstacles like trees or buildings, it's best to go with a high-gain antenna. If the area is flat but there are many trees, you'll get the high-gain antenna over the trees best you can.
The number one most important factor in maximizing your HNT profits
Helium miner experts have stressed this again and again: the number one most important factor to maximing your HNT profits is the VIEW of your antenna.
Not only do you want your antenna as high as possible, you want to have a clear view of as much as possible. A higher elevation low-quality antenna will outperform a low-elevation high-quality antenna EVERY TIME.
This also means using a pole is the optimal way of raising your antenna height. Unless placed at the very top, using something like a tree would block one entire side of the signal. You can use an extendable pole to raise elevation
Frequently Asked Questions
How do I change out my Helium antenna?
Remember, do not detach your antenna while your hotspot is powered on. Turn your hotspot off, and then change your antenna.
How do I update my antenna in the Helium app?
Click on the gear in the Helium app to open the settings. Then click Update Hotspot.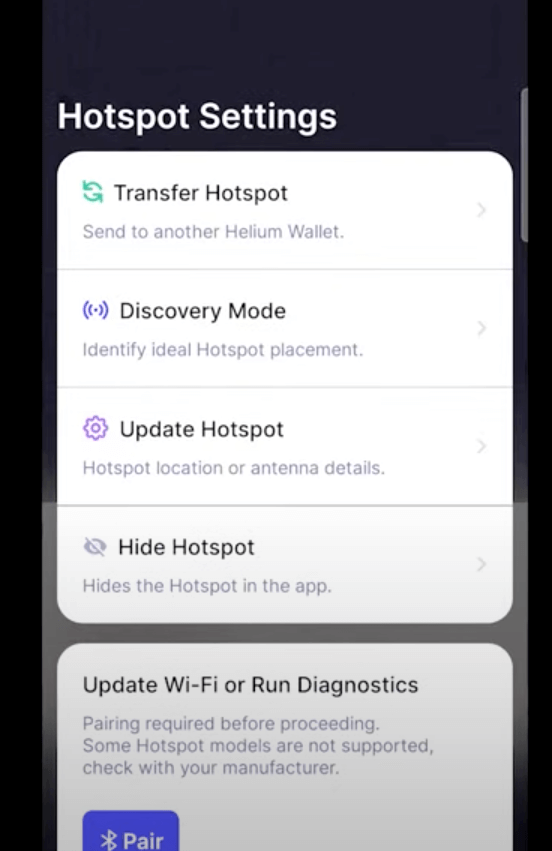 Select Custom Antenna, and enter the gain in Dbi, and the height that you'll be putting the antenna at.
How do I mount a Helium antenna outdoors?
You will need a mount like the Ubiquiti Universal Antenna Mount. Then follow our guide to mounting a Helium antenna.
What is the best indoor Helium antenna?
Know that you will be handicapping your potential profit if you keep your Helium antenna indoors.
If mining indoors, there's less of a reason to upgrade your antenna, and we would keep the stock antenna.
What is the best outdoor Helium antenna?
The HNTenna 3 dBi is the best outdoor Helium antenna for a city setting. The McGill 9 dBi antenna is the best antenna for a remote setting.